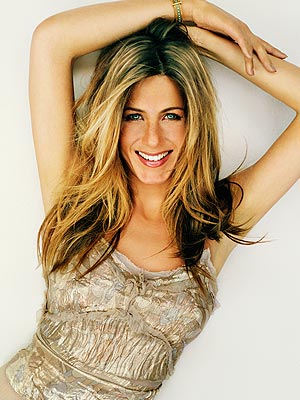 Dear Jennifer Aniston,

Let me honest because that's my strong suit.  I've never been a big fan of yours, nor of "The One About The Six White People Who Consistently Made Me Want to Dry-Heave," i.e., "Friends."  Some may think it's an age thing or a demographic chink in the armor, but I'd beg to differ.  It's true – I'm of another generation than Chandler and Rachel and Monica, et al.  But I'm also older than Eric Cartman and I love him more than he does punch-and-pie.


I've  lived in New York City just about my entire life and therefore your urban setting should have appealed to me.  But – and try not to take this personally, Jen — the whole Seinfeld-Lite derivative thing without the grit and contempt for people and society of Larry David just didn't work for me.  Special kudos to the exec producers who managed to ruin one of my favorite New York places, the fountain at Lincoln Center, for life.  I can't walk by 66th Street without hearing that god-awful theme song pounding in my head like a migraine playing a drum set.

And the situations you found yourselves in —  from no one liking Phoebe's new boyfriend to no one liking Monica's new boyfriend, from  Joey losing his health benefits to Chandler and Joey "losing" Ross's baby on a city bus. 
Oh what hijinks! – losing someone else's tiny little infant in a city of 8,00,000 people, many of whom I wouldn't trust to get in a revolving door after me without coming out in front of me, on a crosstown bus.  Now that's  classic comedy.  But you, Jen, and your zany cohorts get the last laugh – you sit on bags of billions of dollars and I toil away on blogs and books and scripts.

And that's kind of the point, Jen. What with already-inflated salaries and residuals and product endorsement deals, maybe it was time to push yourself away from the table and say, "Wow – that meal was fantastic!  But now I'm full."  I hear that, in your business, it's not an easy thing to do.  Let's face it – the only thing Sara Jessica Parker has yet to endorse is fish-flake food.  You, dear Jen, continue to say  "yes" to scripts Abe Vigoda would turn down.  How did that happen?   I've come up with a few theories about why you just can't say no.  Let's see if any of them fit:

A)    You're weak-willed.  I'm guessing that on some days you eat only a cornflake and gum to maintain that teeny figure, so "willpower" is probably not your problem.
B)  You really trust your agent. Okay, give me a couple of minutes to stop laughing.  But maybe it goes something like this — script comes in, hits your agent's desk.  He Fed Exes it to you, gives you the weekend and then…
AGENT:  What do you think?
YOU:  I don't know.  The plot is really thin, the female lead is barely two-dimensional and my character has to say "peepee" 38 times.
AGENT:  It's a great part.
YOU:  Okay.
C)     You are scared that, if you turn down a script, you'll never be offered one again.  Um, I think that agreeing to do such films as "The Bounty Hunter" and "Love Happens" should have you realizing your greatest fears.
D)    It's all about the work.  Um, "The Bounty Hunter," "Love Happens."
Let's see if I can illustrate my point in a different, simpler way.  Hypothetical situation:   I sit down at the local diner and the waiter approaches:
WAITER:  Anything to drink?  Water?
ME: Sure.
WAITER:  Coke?
ME: Sure.
WAITER: Pepsi?
ME: Love some.
WAITER: Sierra Mist?
ME: Alright.
WAITER: Perrier?
ME: Sounds good.
WAITER:  San Peligrino?
ME: Why not?
WAITER:  Welch's Grape Soda?
ME: Yes sir!
WAITER: Orangina?
ME: Yes, please.
At some point, Jen,  I'm guessing, somewhere between "Marley and Me" and "Rumor Has It…" you forgot to say, "No – I'm fine, thanks."


I know it wasn't easy watching your husband run off with Angelina Jolie.  That's a tough one.  And because you chose to be in the public eye, the world got to watch.  Your problem.  Not my problem.  I know that "stars" have feelings too, but my empathy kind of runs toward women with three children whose husbands leave them, then stop working so they don't have to pay child support and the woman and her kids have to subsist on pinto beans and Velveeta for the next 10 years.  Maybe if you could take them to Cabo St. Lucas for a long weekend or treat them to an estate or spend May in Cannes with them, they'd feel better too.
So Brad Pitt left.  Personally, I'd feel worse if George Clooney left but again, all a matter of taste.  You're young.  You're subjectively attractive and relatively young.   You've got enough money to buy the state of Colorado, and a round of drinks for everyone in it.  If I could draw the world's tiniest violin, right here, you know I would.  Do you think you're actually making him jealous by having pretend or even actual relationships with any of your fugly male co-stars?
Of course not, but you are making me seasick-nauseous appearing on more magazine covers than IPC codes.  The doe-eyed, freshly highlighted hair, bikini-wearing, winsome looks for the camera have got to stop.   I don't read "In Style" or "In Touch," or "Elle" or "Vogue" or People."   However  – I think I mentioned this before – I live in New York and here, we walk.  A lot.  And we pass newsstands.  A lot.  Whether it's you in a "candid" shot holding a Starbucks cup, you in a man's white oxford shirt, you with Courtney Cox and her "whimsical" husband, David Arquette, every headline that tries to elicit if not a purchase, than at least some pity or emotion from me with headlines like  "Jennifer Aniston Has Emotional Breakdown over Brad Pitt,"  "Jennifer Aniston "Renovated" Brad Pitt Out Of Her Life";   "Brad Pitt calls Jennifer Aniston `Pathetic'," has done neither.
I want to feel bad for you, Jen.  Really.  But first you have to start feeling bad for yourself.  Think of this as an intervention.  First,  start by turning down everything that's offered to you.  Let's practice:  Just repeat after me:

Along Came Polly II:  "Ewww…"
The Break-Up: Together Again!:  "No, I'm okay, thanks."
Marley and Me and Ted and Alice:  "Um – no.  I'll pass."
The Good Girl Goes Bad:  "I'm already otherwise engaged."
He's Just Not Even a Smidge Into You:  "Sorry, I have other plans."
Next, it's okay – really – to not have a man, to not have a date, particularly when the alternative is Vince Vaughn or Gerard Butler or Aaron Eckhart.  We've seen you "blissfully happy."  We've seen you "pathetic and miserable."  Most of us prefer the latter. It makes us feel better about our own lives.  Don't ask me why.  It just does.
Finally, it's time to let the whole Brangelina thing go.  You had him.  She has him.  Done.  Which doesn't necessarily make her the "winner."  Do you think the ratty knit-cap/ZZ Top beard-thing he's got going is a positive?  
Did you really want to be building Habitat for Humanity houses in New Orleans?  We know you'd rather be carrying a Frappuccino than a Philips screwdriver.  Did you really want more children than "The Old Lady Who Lived in a Shoe?" or her more contemporary version, that Discovery Channel woman who has 19,  and dresses herself and all of her girls like "Little House on the Prairie" extras? 
Believe me – as sad as you feel about not having Brad, he gets very, very nervous every time Angie suggests they add another nursery to their estate and reaches for her passport.
So – let's try the following:  first, pinky-swear — you will read the script before you agree to do the movie.  Next, not even under the threat of water-boarding  will you even contemplate, ever, ever, ever, a "Friends" reunion movie.   A one-year moratorium on appearing on magazine covers or pretend love affairs with leading men.  You can't keep your hands off Paul Giomatti?  Sorry.  Not buying it.  No Extra or Access Hollywood or  Entertainment Tonight tonight, tomorrow or six months from tonight .   Angelina-Shmangelina.   Am I getting through to you?  Excellent.  And when you're done with this, just one more thing — please forward  to Kate Hudson.
Thanks!
Mollie